​
Home » 2016 » Seifert Competition 2016 poster
Seifert Competition 2016 poster
Opublikowany: 2016-02-04 22:36:00
Czas trwania projektu: January 2016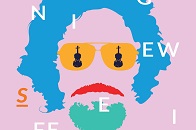 The competition was addressed at the students of the Academy of Fine Arts in Warsaw, at the Studio of Multimedia Design at the Department of Media Art, under the guidance of Katarzyna Stanny, D.F.A. The organizers received over 50 amazing projects. The jury composed of: Paweł Brodowski, Aneta Norek-Skrycka (the President of Zbigniew Seifert Foundation), Rafał Olbiński and Katarzyna Stanny debated on the 14 January in the editorial office of the JAZZ FORUM magazine.
The author of the winning work is Magdalena Wieczorek. Simple, optimistic and colourful forms proposed in her project are the examples of a modern graphic design subtly referring to the tradition of the Polish School of Posters so close to the times, in which Zbigniew Seifert created his music.
All works submitted for the contest will be presented at a special exhibition during the Seifert Competition in Lusławice.