​
Home » Jazz Forum Magazine's covers exhibition
Jazz Forum Magazine's covers exhibition
Opublikowany: 2012-04-18 11:38:00
Czas trwania projektu: 13th July - 31st August, 2012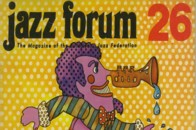 An exhibition of selected covers of Jazz Forum magazine by Rafał Olbiński.
The exhibition presents eighteen covers of back issues of Jazz Forum published between 1972 and 1981 (both Polish and English editions). Jazz Forum is one of the oldest Polish jazz magazines. It was established in 1965 by Jan Byrczek and it has been published without intermissions until now. For over 30 years, its Editor-in-Chief has been Paweł Brodowski.
All the covers presented here were created by Rafał Olbiński: a graphic artist, poster designer and stage designer of worldwide renown, who worked as the graphic editor of Jazz Forum from 1970 till 1980. In 1995, his design was chosen for the New York – the Capital of the World poster by a jury chaired by Mayor Rudolph Giuliani. Olbiński's paintings are part of the greatest collections of modern art (Congress Library, Carnegie Foundation, Republic New York Corporation) and of many private collections in the United States, Japan, Germany, Switzerland and Australia.
In 2011, Zbigniew Seifert Foundation carried out the project of digitalizing back issues of Jazz Forum from 1965 to 1989 (approx. 250 issues of three different editions – English, German and Polish), available at www.polishjazzarch.com
The exhibition was organized on the initiative of Ewa Willmann - the Director of the Służew District Centre of Culture.
The exhibition's organisers were: Służew District Centre of Culture, Galeria Po Prostu, Zbigniew Seifert Foundation.
The exhibition was presented in Dreszer Park in Warsaw from 13th July until 31st August, 2012.
Translation: Marta Michalska