​
Home » Educational materials for teens
Educational materials for teens
Opublikowany: 2012-04-18 22:07:00
Czas trwania projektu: April - December 2012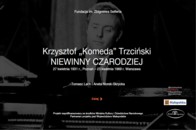 Zbigniew Seifert Foundation carried out the project entitled "Creating educational materials for young people concerning Polish-German history and relations in jazz from the 1950s in the 20. century". Materials are available free of charge in Polish version at materiały edukacyjne and German version at unterrichtsmaterialien.
These materials were created by Mariusz Gradowski the Ph.D. student from the Institute of Musicology, University of Warsaw and Christian Schmidt-Rost - Ph.D. holder from the Freie Universität in Berlin, who recently defended his dissertation dedicated to Polish-German relations in jazz in the 20th century.
The project is co-financed by the Polish-German Co-operation Foundation.
The Partners are: