​
Home » Zbigniew Seifert in Memoriam
Festival in Cracow
Zbigniew Seifert in Memoriam
Festival in Cracow
Opublikowany: 2011-09-03 08:40:00
Czas trwania projektu: 5th - 7th November 2009, Kraków, Wieliczka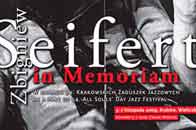 Zbigniew Seifert in Memoriam in 2009 (1946-1979)
On 5th-7th November 2009, a festival dedicated to the memory of Zbigniew Seifert, the brilliant violinist, sax player and composer from Cracow, was held to celebrate the 30th anniversary of his death.
2009 marked the 30th anniversary of the death of the outstanding jazz artist Zbigniew Seifert. Though he unquestionably has an important place in jazz music history, his figure still remains little known to the wide audience. Zbigniew Seifert created his own unique violin style, which is his original contribution to jazz, drawn upon by many jazz violinists and other musicians also today.
Between 5th and 7th November 2009 in Cracow, during Cracow's 54th All Souls Jazz Festival, a cycle of concerts and meetings entitled ZBIGNIEW SEIFERT IN MEMORIAM was held on the initiative of musicians, festival organisers and lovers of Zbigniew Seifert's music, commemorating his jazz genius. The project was inspired and initiated by Małgorzata Jantos, Ph.D.
Programme of Zbigniew Seifert in Memoriam:
5th November (Thursday)
7 pm - K. Szymanowski Philharmonic Hall
Part One
Jasper vant Hof - p
Philip Catherine - g
Adam Nussbaum – dr
http://www.youtube.com/watch?v=OnKxZtb_aXA
Part Two
Joachim Kühn - piano solo, as
***
Z. Seifert - Jazz Concerto for Violin, Symphony Orchestra and Rhythm Section - Polish première
Performers: 
Mateusz Smoczyński - vn
Joachim Kühn - p
Bronisław Suchanek - b
Janusz Stefański - dr
Bohdan Jarmołowicz - conductor
Karol Szymanowski Philharmonic Orchestra
9.30 pm - Club concert + Jam session. Piec Art Club
Mateusz Smoczyński Quintet
6th November (Friday)
Museum of Japanese Art and Technology - MANGGHA
4 pm - Promotion of the Polish-language biography Zbigniew Seifert's Life and Work - Man of the Light by Aneta Norek and a memorial meeting of the Festival guests (artists, journalists, music-lovers).
6 pm - Screening of the documentary Passion about Zbigniew Seifert - dir. Erin Harper (http://www.passion-themovie.com)
10 pm - Club concert. Alchemia Club
7th November (Saturday)
7 pm - Wieliczka Salt Mine, Tourist Route, Jan Haluszka Chamber
10 pm - Club concert. Jazz Club "U Muniaka"
Project organisers:
Małgorzata Jantos, Ph.D. – Originator of the Festival "Zbigniew Seifert in Memoriam"
Prof. Janusz Stefański – Artistic director of the Festival
Aneta Norek – Project co-ordinator
Magdalena Warejko – Chair of the Association Pro Musica Mundi
Jerzy Szałaciński – Graphic design of promotional materials, graphic design and typesetting of the biographical book Zbigniew Seifert's Life and Work - Man of the Light
Honorary Patronage of Bogdan Zdrojewski - Minister of Culture and National Heritage, prof. Jacek Majchrowski - President of City of Cracow and Cracow Town Council.
Project partners::
Media patrons:

Festival reviews:
Recenzja festiwalu w "Jazz Forum"
Gazeta Wyborcza:
Festival promotional materials: